The Floating Box, A Story in Chinatown
Music by Jason Kao Hwang
Libretto by Catherine Filloux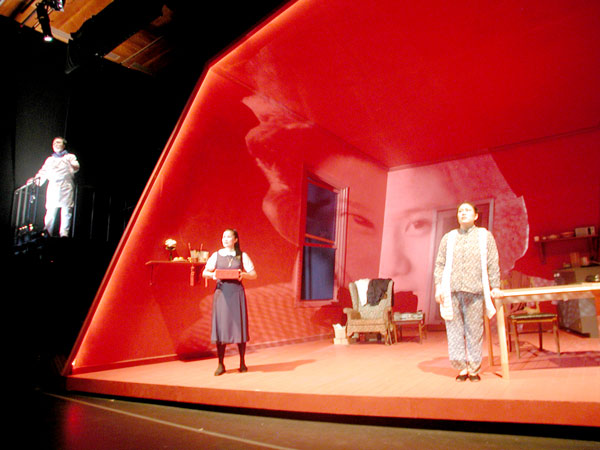 With an orchestration of Chinese and Western instruments,
The Floating Box, A Story in Chinatown
boldly charts the journey of an immigrant family over continents, languages, and generations. After her father's sudden death, Eva/Yee-Wa, who was raised in the U.S., struggles with her mother's fierce silence.  As her father appears in both memory and spirit, she confronts a forbidden box of composite photographs, fragmented images, which unearth a mysterious past. Set in a small apartment in New York City's Chinatown, tales of love, tragedy and heroism, from both China and America, are unveiled in a story, which flows freely through time.  With music creating a cross-cultural landscape of dreams, memories, and stark realities, T
he Floating Box, A Story in Chinatown
tells an essential and mythic tale of one family's loss, transformation, and survival.
The Floating Box, A Story in Chinatown
was commissioned by Meet the Composer/New Residencies in partnership with Music From China, the Museum of Chinese in the America and the Asia Society. The Floating Box was performed on October 25, 26 and 27 and November 1, 2 and 3, 2001 at the Asia Society.  The recording took place between performance weekends. The double CD was released by New World Records in 2005 with the support of the Aaron Copland Foundation. 
DIRECTOR
Jean Randich 
CAST
Eva (Yee-Wa)         Sandia Ang, Soprano
Mother                   Ryu-Kyung Kim, Mezzo-soprano
Father's Ghost       Zheng Zhou, Baritone
Student Voices      Charlee Chiv, Scott Chan, Mona Chiang, Wai Ching Ho, Henry Yuk 
ORCHESTRA
Conductor:   Juan Carlos Rivas
Piccolo/ Flute/ Alto Flute:   Patti Monson
Bb clarinet/ Bass clarinet:    Michiyo Suzuki
Vibraphone:   Diana Herold
Multiple percussion:   Satoshi Takeishi
Pipa (Chinese lute):   Min Xiao Fen
Accordion:   William Schimmel
Erhu/ Gaohu/ Zhonghu (Chinese two-stringed bowed instruments):    Wang Guowei
Cello:   Tomas Ulrich
Set Design:    Alexander Dodge
Costume Design:    Linda Cho
LIghting/ projection design:    Clifton Taylor
Rehearsal pianist:    Hyeseon Shin  
RUNNING TIME
One hour and forty minutes
SYNOPSIS OF SCENES
The action of the opera takes place in Chinatown, New York, in the 1980s.
Prologue. Eva tries to sneak a look in the red box, a family heirloom, on the altar. The mother takes the box away and secretly removes a cutout photo of Eva's father. 
Scene 1.
The Women of the Grave. Eva and her mother perform burial rites at her father's grave. 
Scene 2.
Ghost in the Classroom. Eva is teaching English to immigrants, when the ghost of her father enters the classroom. 
Scene 3.
Broken Pieces. Eva takes care of her mother in their apartment. The mother speaks only Chinese, although she repeats words in English from the radio weather report. The mother replays an old record of traditional erhu music. 
Scene 4.
First Words, First Drink. Eva tries to flee with her suitcase but the ghost of her father blocks her path. When he hands her a glass of water, she reverts to childhood, learning how to speak her first words of English and reliving her father's playful lesson about water. Losing herself in past memories, Eva quits her teaching job and stays home. 
Scene 5.
The Red Box. Eva sneaks open the red box and, like a young girl, plays with the cutout figures of family photos. Frustrated by the family's isolation, Eva tries to throw the box out the window. Her mother stops her and Eva rebels. 
Scene 6.
No Name. Eva sinks into depression, not speaking, not eating or leaving the apartment. The mother tries to rouse Eva back to life. 
Scene 7.
You Opened Your Mouth, A Fish Came Out! The mother tries to find a way to reach Eva, revealing that Eva's father was a famous erhu musician in China. He is the musician playing on the record. In America he worked as a cook on a cruise ship. The
young father appears and relives the story of his erhu being thrown overboard by his boss. Eva feels deceived that she knew nothing of her parents' past. 
Scene 8.
Across the Seas. Eva's mother confesses that she worked downstairs in a photo studio when they first arrived. Eva asks what her parents want from her. 
Scene 9.
Weeds. Eva approaches the ghost of her father and he encourages her to "throw some weeds" on his grave.
 
Scene 10.
Eva. Eva's mother stacks up the boxes of piecework to return to the factory. Eva feels her mother's love and they kiss for the first time. Eva begins to teach her mother English from the weather report, and Eva's mother finally says Eva's American name.